Welcome to Palm Vision Center, a full services Optometric Practice providing the answer to all your eye health needs.
At Palm Vision Center we welcome the opportunity to help you with all your eye care needs. Regular eye exams are important to help maintain healthy eyes and we strive to make your visit pleasant and informative to help you manage your vision health care. We are a full Optometric Practice ready to provide you with the answers to your eye care needs, and we count with the friendliest most professional patient services at our Cooper City location.
Dr. Anhalt's commitment to patient education, compassionate and personalized care is the reason for our long standing patient base. Our priority is to give you the best eye care and vision correction possible, while taking the time to discuss all options available, from treatment, to eye glasses, contact lenses, designer eyewear and more. We value your trust and we look forward to providing you with care and attention that exceed all your expectations. 
Dr. Anhalt and his staff offer family eye care and complete your comprehensive eye examinations aided by the use of the advanced eye care technology. We also offer tests for disease prevention and are able to accommodate same-day or urgent visits whenever possible. 
What our patients are saying
Dr. Anhalt's office is clean, warm and extremely knowledgeable, professional and all the staff is courteous, and Dr. Anhalt is great. I would recommend him and his office to all my friends.
—Hareen G.
This is a really great office with an excellent selection of glasses. Dr. Anhalt and his staff are incredibly friendly, helpful and professional.
—Shari L.
I am so grateful that my first visit to see Dr. Anhalt was a great one. He is so knowledgeable, professional and has the state of the art equipment. I will definitely be going back to him and have given his business cards to my co-workers. Thank you Dr. Anhalt.
—Ann P.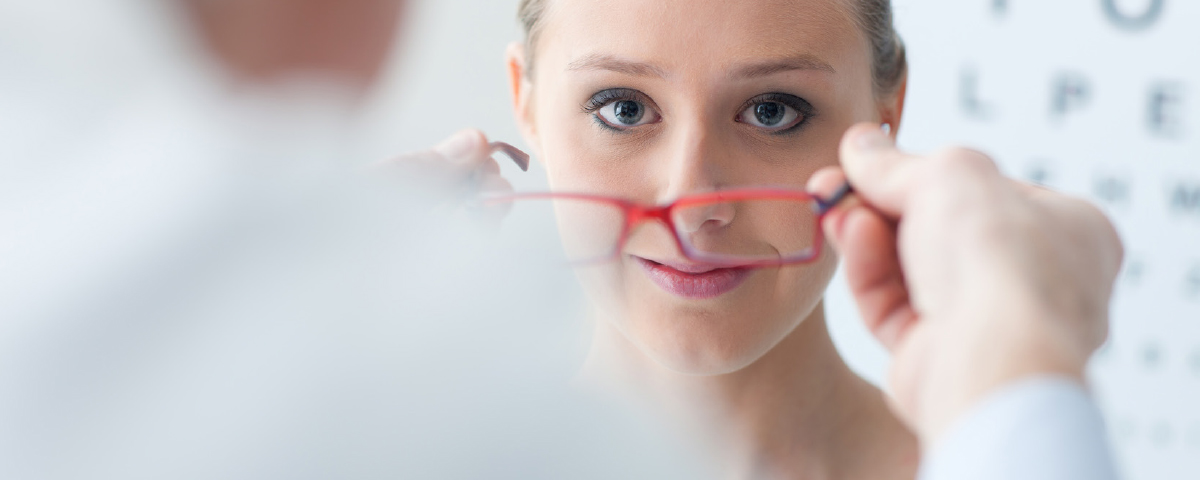 At Palm Vision Center we are committed to making your eye care experience pleasant and educational while offering friendly and compassionate services.
Palm Vision Center offers a complete range of eye health services
COMPREHENSIVE
EYE EXAMS
A comprehensive eye health examination consists of a history of current medical conditions, including both eye related and systemic conditions along with an evaluation using computerized equipment to analyze corneal curvature, automated refraction, visual field analysis, and retinal photography. MORE >
CONTACT LENSES EXAMS
After a comprehensive eye health examination, Dr. Anhalt will discuss contact lens options upon a patient's requests. These options can include a variety of lenses from soft spherical lenses to hard gas permeable lenses, colored lenses and everything in between. Annual exams are suggested to ensure the best fit and optimal vision. MORE >
OPHTHALMIC LENSES
AND FRAMES
We carry a broad selection of unique designer eye wear for patients needing eye glasses. Our optical department can write and fill your prescription, making Palm Vision Center a one-stop-shop for your optical needs, with the personal touch of knowing your doctor is there to answer any questions. MORE >
MEDICAL CONDITIONS
Dr. Anhalt offers medical eye services to examine, treat and manage diseases of the eye and eyelids. These conditions include, but are not limited to infections, abrasions, eye injuries, and eyelid conditions. These conditions and diseases are diagnosed, discussed with the patient, and treated with medications if needed. MORE >
"I can't say enough good things about our experience with their office. When I called to make the appointment for my daughter the gentleman that answered the phone was more than helpful. I was able to go on their website to print out the patient forms and have them complete when we went to our appointment. We had a 9:00am appt. We arrived at 8:50 and they were ready to help us while smiling. Dr. Anhalt was very personable and explained everything that was happening with the exam to my daughter. Unfortunately, she needs glasses. Perry the sweetest woman helped us pick out the perfect frame for her face. Time to make appointments for myself, my other daughter and my husband!"
—Robin T. | Hollywood, FL